New PA Training Programme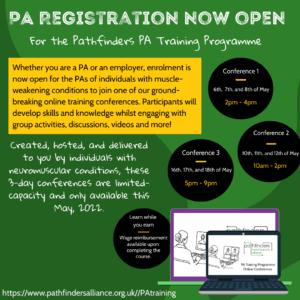 Pathfinders Neuromuscular Alliance is excited to announce their new PA Training Programme funded by Skills for Care.
Adapted from the virtual conferences, the core training course is available on their website and will be available anytime, to anyone, for free.
Composed of 13 video modules with accompanying quizzes and designed to raise awareness and support those with neuromuscular conditions, experienced and new alike can benefit from the variety of topics explored including: nutrition, ventilation, and common emergencies.
Additionally, Enrolment is still open for all three of their FREE ground-breaking online training conferences, where PAs and carers of individuals with neuromuscular conditions will have the opportunity to develop their skills and knowledge whilst participating in group activities, discussions, videos and more.
As an added incentive, wage reimbursement is available for attendees who complete a full conference.
Created, hosted, and delivered to you by individuals with neuromuscular conditions, these 3-day conferences are limited-capacity and only available this May 2022.
Are you a PA? Or do you have a muscle-weakening condition yourself, and employ a team of PAs, who would benefit from this groundbreaking training programme?
Get online now at pathfindersalliance.org.uk/PAtraining to learn more and enrol!