Money for training for PAs and PA Users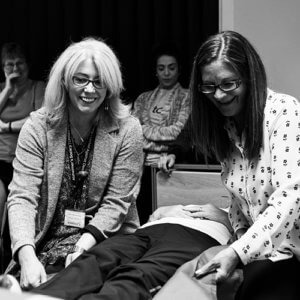 If you employ personal assistants (PAs) or carers, using a personal budget from health and/or social care or with your own money, you can apply for funding to pay for training…
If you're a PA User – find out more and download the application form from the Skills for Care website.
If you're a PA, tell your employer about this funding!
What can the money be used for?
The training can be to develop your own skills as an employer, or to train your PAs.
There are lots of courses you can apply for and Skills for Care look at each application on a case by case basis.
Some of the most popular training courses and qualifications include:
how to be a good employer
communication skills
British sign language
first aid
moving and handling
health and safety
condition specific training such as dementia or autism awareness
Health and Social Care Diplomas.
The funding can also cover travel costs and the cost of hiring replacement PAs.
It can make a real difference
Sharon employs a team of PAs and applied for funding to pay for them to attend training as part of the Care Certificate. She told us:
"Skills for Care funding paid for six PAs to do training as part of the Care Certificate. The funding enabled the training to be delivered in my own home so it was personalised to my needs.
"The training has literally transformed my life. As a result of it we could train my PAs to a higher level enabling them to perform my nursing tasks wherever I am – whether out socialising or at a friend's house because my staff can now go everywhere with me.
"Skills for Care funding really has given me the ability to lead an independent life despite crippling disabilities."
Apply now
It's easy to apply. Find out more and download the application form and guidance here.
Applications close on 28 February 2019.
More support from Skills for Care
There's lots of information and guidance for individual employers, PAs and those who support them, such as user led organisations, on the Skills for Care information hub for individual employers and personal assistants.