Disabled & Sexy – See my smile. See my style. See my Disability.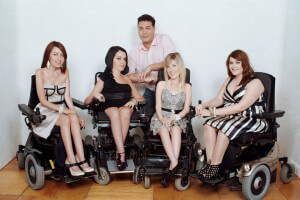 We are a group of young people planning a fashion show to raise funds for a well deserving charity (Jennifer Trust for Spinal Muscular Atrophy) whilst putting across the message that people can be disabled AND sexy. We're all very different people who live in different parts of the UK, but one thing we have in common is we all love our clothes and believe that looking and feeling good in your skin is very important. We want to show that people with even the most severe of disabilities can follow fashion, display individuality and have sex appeal just as much as anybody else. In order to do this, the show will use a combination of disabled and able bodied models in an effort to prove to the world that fashion is for everyone and should not discriminate.
People are lining up to be involved in this event especially in light of the recent media coverage in such shows as Gok Wans Fashion Fix and Britains Missing Top Model. The latest recruits to the Disabled & Sexy – Charity Fashion Show are;
Channel fours Jon Snow is to conduct a lively auction.
Professional model, wheelchair user and Britains Missing Top Model contestant Sophie Morgan is set spice up the show with her professional modelling skills.
Professional model, wheelchair user who recently featured in Debenhams advertising campaign Shannon Murray is also set to bring further glamour to the event.
Hosting the event is Britain's Missing Top Model judge, TV presenter and fashion agent Jonathan Phang, who recently organised an amazing photo shoot with some of the non-professional Disabled & Sexy Models.
Debenhams are now on board and are supporting the show by supplying us with some clothes on the night!
Tickets Now On Sale!
When? 25/10/10.
Where? The Tabernacle, Nottinghill, London.
For Tickets and enquires:
Email Tess: tessdaly@hotmail.co.uk
or
Phone Tasha: 07517575750
For more information visit www.disabledandsexy.co.uk