Coronavirus and Carers from Abroad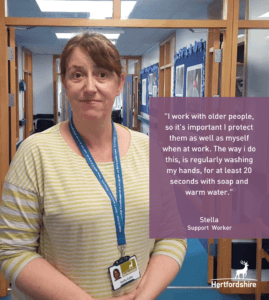 Personal assistants for the disabled and housebound often travel to and from their homes in the EU between weekly shifts. How does the coronavirus outbreak affect this arrangement, and how can both parties be protected? Scroll down for the latest updates…
Many of the PA's (carers) on PA Pool's register come from countries within the EU. And the nature of the way that shifts work for those caring for our members, means that many of them return to their home country, and their families, between shifts.
But as Coronavirus continues to spread around the world (keep up to date with the situation here and here, and with the government suggesting that up to 20 per cent of the workforce may have to miss work because of the virus, what does this mean for PA's and their employers (ie, PA Users and PA Pool members)?
Those with suppressed immune systems and long-term health issues are more at risk from the virus, so it is vital that those who come into contact with them follow the guidelines to keep safe.
As we write this, Italy has extended its emergency coronavirus measures, which include travel restrictions and a ban on public gatherings, to the entire country.
Travel
If your PA has been on holiday and is returning from China, Italy and South Korea, Japan, Macau, Malaysia, Singapore, Taiwan, Thailand, Cambodia, Laos, Myanmar, they should self-isolate if they have any of the following symptoms – cough, high temperature or shortness of breath (even if they have mild symptoms).
If they are returning from 'lock-down' areas in Italy, Hubei province in China, Iran, and special care zones in South Korea, they should self-isolate regardless of whether they are showing symptoms or not.
At present, this advice does not apply to other countries such as Poland, but you can find up-to-date country by country advice at www.gov.uk/foreign-travel-advice.
Keeping safe
Most of the hygiene guidance will be second nature to those dealing with disabilities or long-term health issues:
Ensure there's a place to wash hands, with hot water and soap and alcohol-based hand rub. Remind staff to wash hands regularly for at least 20 seconds. Provide hand sanitiser and tissues.
Know the symptoms to look out for. If you or your PA has Coronavirus symptoms (cough, fever, breathing difficulties, chest pain) make it clear they should not come to work and contact NHS 111 either by telephone (dial 111) or online at 111.nhs.uk.
Your PA should also avoid contact with anyone with cold-like symptoms, either in the UK or abroad
Getting tested
If you or your PA has been in contact with someone who has the virus, or is otherwise concerned that they may be at risk of contracting it, in London at least, there are 'drive-through' testing facilities, but they must be referred through NHS 111, and the test can take up to 72 hours to yield any results. Find out more at www.england.nhs.uk/2020/02/nhs-comments-on-coronavirus-drive-through-testing-service.
If they have any concerns, they can call NHS 111 or visit the online service for more advice.
For you and them to find out more about the virus and its symptoms, visit: www.nhs.uk/conditions/coronavirus-covid-19.
British Sign language public health videos can be viewed at www.signhealth.org.uk.
Responsibility of the employer
The government has announced that employees with Coronavirus will be eligible for Statutory Sick Pay from day one of the illness, in a bid to ensure workers do not continue going into the workplace and spreading the disease. Find more information on who is eligible for Sick Pay at www.citizensadvice.org.uk/work/rights-at-work/sick-pay/check-if-youre-entitled-to-sick-pay.
As an employer you are also responsible for taking reasonable steps to ensure your PA's health and safety – so in this case, recommending best practice as we've highlighted under 'keeping safe' and providing the correct equipment to maintain hygiene standards.
Other things to consider
If your PA does have to self-isolate – or becomes ill – you may find yourself without care for at least two weeks. Make sure you have in place plans to cover your care if an emergency like this should arise – you should have contingency plan in place anyway. If your PA is unavailable during this time, you can search for another PA at papool.co.uk.
You can direct a member of your staff who needs to self-isolate to the NHS website, which confirms the dos and don'ts during the 14-day period, including for those in shared accommodation.
Self-isolation means staying at home for 14 days, not going to work, school or other public places, and avoiding public transport or taxis, says Public Health England.
Updates May 2020
Learn about the Government's advice during Covid-19 for those who are 'clinically vulnerable' and 'clinically extremely vulnerable' people.
Updates June 2020
On Monday 15 June 2020, it became mandatory to wear a face mask on public transport in England. You can read more about that on the BBC website. Whilst this link contains details of possible exemption for travellers and border rules, for careworkers. You may also find the attached PA Pool Quarantine Exemption PDF useful.
PA Pool allows those who need carers in their home the opportunity to interactively manage their own private care recruitment or employment. It aims to make the lives of PA Users and PA's (carers) easier by eliminating some of the hassles of the recruitment process. Find out more and sign up at papool.co.uk/big-idea and follow us on Facebook at: www.facebook.com/PAPoolLtd. PA Pool is a non-profit organisation.