Discounted Insurance Offer for PA Pool Members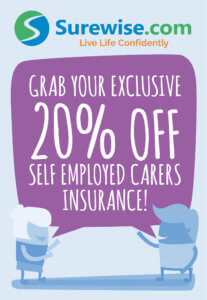 PA Pool are pleased to announce that we have now partnered with Surewise.com to offer our members 20% off your self-employed carers insurance.
As a self-employed carer, there are many responsibilities you need to think about, from taxes and communicating with your clients effectively, to protecting yourself should anything go wrong.
When managing your own business as a self-employed carer, a key thing you'll need to consider is how to protect yourself both legally and financially should anything go wrong. Most important for self-employed carers is public liability insurance, which will cover you if someone, including your client, is injured as a result of your business.
With Self-Employed Carers Insurance from Surewise.com, you'll be covered for:
Public liability (up to £5 million)
Loss of property
Personal accident
Legal expenses (up to £10,000)
Protecting yourself while you're caring for others is essential, and that's why PA Pool are now working in collaboration with Surewise.com to give our members the best possible deal on your self-employed carers insurance.
Surewise.com have no hidden fees or charges in their quotes, provide the option to pay monthly if required, and you'll have total freedom to cancel your policy at any time.
Click here to find out more and get a quote for your self-employed carers insurance policy at a 20% discount exclusive to PA Pool now.
The discount is automatically added to the policy when you click on the link. It's a tracking URL which automatically discounts the insurance. The price that you will see when quoting is the discounted price.