Woman makes national business awards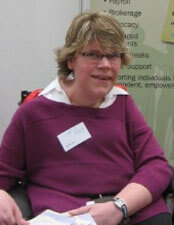 Berkhamsted's Katy Etherington has Spinal Muscular Atrophy (SMA). Her condition means she has been a wheelchair user since childhood and relies on full time carers to help her live independently.
But this has not stopped the 36-year-old, who is a freelance graphic designer, from setting up a successful businesses, PA Pool, which has been named one of the UK's top businesses in the government backed 2009 Barclays Trading Places Awards.
The Berkhamsted entrepreneur is now in the running for national glory in the finals to be held later this year.
Miss Etherington, who lives on Berkhamsted High Street, set up PA Pool because she found it difficult to find the right people to provide her much needed care.
Frustrated with existing recruitment methods, she set up an online database, www.papool.co.uk, in June 2007 which is designed for PAs looking for work and people in need of carers.
Today, the site has more than 4000 members.
Miss Etherington explained: "I feel very honoured to be up for this award. I was nominated for a different category last year and it really brings it home what I've achieved.
"Now I have four PAs who help out, but before I really struggled to find one. I saw a gap in the market and I now I feel proud that I have not only solved a problem for myself but for others too."
Miss Etherington, who still works as a graphic designer, plans to team up with the authorities in the near future to provide recruitment solutions for disabled people receiving Direct Payments and to develop a corporate side aimed at sourcing staff for care homes.
She also hopes PA Pool will enable businesses to hire staff to assist disabled employees in the workplace.
Barclays marketing director for local business, John Davis, a judge on the panel, said: "We hope Katy's story will inspire other budding entrepreneurs in Berkhamsted who face similar difficulties to come forward and turn their own business dreams into reality."
The awards recognise business heroes who overcome adversity- whether it is dealing with illness, disability or family responsibilities .
If Miss Etherington wins she will be given £5,000 and a further £2,000 worth of computer software from awards supporter Microsoft.