New Disability Rights Handbook 2015-16 (Edition 40)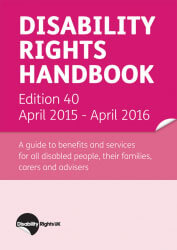 Now in its 40th year, the new Disability Rights Handbook (Edition 40) is now available for pre-order from £18 and will be published in April 2015. Its regarded as the number one guide to both disability benefits and independent living.
The Handbook provides a clear and concise guide to information on the benefits and independent living system. It's updated every year and offers advice and information on what benefits you can claim, how the new Care Act will affect your care package and independent living.
Full Price: £33.50 / Concessionary price if you are in receipt of benefits: £18.00.
You can place your order online. The website also provides opportunity to sign up for email updates to the Handbook, along with an offer for 'Taking Charge', a guide which pulls together your 'rights' to a decent life, with choice and control, giving information on 'what you have a right to expect' from services, education and employment. The guide is intended to complement the Disability Rights Handbook.