The Undateables' final episode was really funny – and that's OK, right?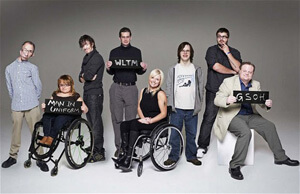 This was the online headline from Metro 17 April 2012.  Rachel Tarley went on to write "Tonight's third and final episode of The Undateables followed 27-year-old Sam, who had Down's Syndrome, 24-year-old Haydn, who suffers from a facial disfigurement and 20-year-old Kali, who has Williams Syndrome.
There were fewer moments of mirth than in previous episodes and I suspect a lot of people were tuning in for the oft-amusing sight of people who were in many ways socially awkward tackling tricky social situations.
Tonight's episode didn't have the poetry-writing of last week, or the Tourette's of the week before, but there were some gently sweet and amusing moments as Kali's syndrome caused her to fall wildly in love with someone in the space of about five minutes, then out of love just as quickly.
And by the way, it's OK to have been laughing at the situations Sam, Haydn and Kali found themselves in.
Fundamentally, it's the awkwardness of the world of dating we've been laughing at; not their disabilities…"
Read the full article here: http://www.metro.co.uk/tv/reviews/896448-the-undateables-final-episode-was-really-funny-and-thats-ok-right