Share some Puppy Love this Valentine's Day!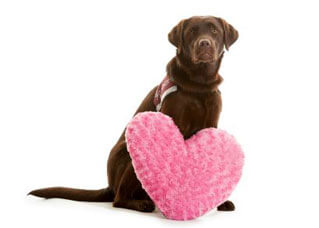 National charity, Hearing Dogs for Deaf People, will be launching a special free 'app' in time for Valentine's Day, to raise vital awareness of the organisation's life-changing work.
The Charity hopes those looking for a Valentine's gift with a difference will download the affectionate 'app' and encourage others to do the same ahead of 14 February.
Bordered by the traditional Valentine's heart, users of the 'app' can choose from a host of cute hearing dog puppy images to express their love and also share the incredible, life-changing work which that particular puppy will eventually carry out for a deaf person.
Currently, there around 775 deaf adults and children across the UK benefiting from a hearing dog. Each hearing dog brings greater levels of independence, confidence and companionship to the deaf person.  Hearing dogs also help to alleviate some of the isolation, stress and anxiety which deafness can often create.
Michele Jennings, chief executive at Hearing Dogs for Deaf People, said: "Valentine's Day is an opportunity for everyone to tell those closest to them just how much they appreciate them.  "With social media playing such a huge role in day-to-day life, we think this is a really innovative way for people to express how much they love and appreciate someone and at the same time, tell those closest to them about our own life-changing work with deaf adults and children."
Hearing dogs are trained to alert deaf people to a range of sounds both at home and in public places, such as the door bell, alarm clock and fire alarm. And with one-in-six people in the UK having some form of hearing loss, the Charity's work could potentially benefit many people.  The Charity is non-government funded and relies on the generosity of the public to fund its work.
The 'share some puppy love for Hearing Dogs' app is completely free to download. Go to: www.hearingdogs.org.uk orwww.facebook.com/hearing.dogs for more details and as soon as we're aware its available we'll update our Facebook and Twitter pages too!
Happy Valentines!