PA Pool Website Update & Subscription Fees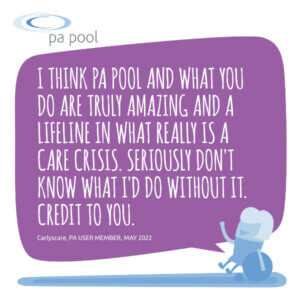 We've been really busy these past few months having moved to new web developers which we hope will mean that future updates will happen more quickly, and you'll start seeing more and more improvements to the website.
PA Pool is constantly developing and maintaining content to meet the needs of our members. In particular, we have recently introduced updates to ensure that the website is more secure by verifying the identities of PAs when they first join, and PA Users when they take out their first subscription. We have also included further gender options, and the ability to specify that you don't mind if your PA or client is a smoker.
Just a few of the updates we have in the pipeline are:
Updating the email interface to make it easier to use
Profiles which have been inactive for 6 months will be automatically changed to "I'm Sorted"
Adding availability dates for PAs on the Emergency PA Page
Email notification when someone on your shortlist changes from "I'm Sorted" to "I'm Looking".
Katy would like to thank those of you who have given us some valuable feedback and suggestions regarding developments to PA Pool – please do keep them coming! And she'd also like to take this opportunity to thank each and every one of you for being a valued member and contributing towards making PA Pool a successful resource for recruitment.
Subscription Fee Increase
It's never a pleasant task being the bearer of such news, but as from 30 September 2022 we will be increasing the subscription fees slightly. We've managed to hold off increasing prices since 2009 and, whilst we are making every effort to find ways of generating enough income to cover running costs and development, in this current economic climate it is proving more difficult than ever.
The new fees are detailed below:
PA User Fees
Period: 3 Days                Old: £5                 New: £8
Period: 1 Month            Old: £20               New: £25
Period: 3 Months          Old: £52               New: £60
Period: 6 Months          Old: £98               New: £110
Period: 12 Months       Old: £188             New: £200
Emergency PA Page
Period: 3 Days                Old: £4                 New: £8
Period: 1 Week              Old: £8                 New: £12
Premium PA
Period: 3 Months          Old: £25               New: £30
Period: 6 Months          Old: £45               New: £50
Period: 12 Months       Old: £75                New: £80
Please note: it is still free of charge to register as a PA and to start searching for work. It is only the upgraded membership fees, ie, the Emergency PA Page and Premium PAs which incur a fee.
PA Pool is a non-profit distributing company so we can assure you that all money made from your subscription fees goes back into the maintenance and development of PA Pool and we have many plans for continuing to make it a better service. Despite the increase, we are still proud to be more cost effective than many other specialist PA recruitment and advertising websites and we hope you feel that PA Pool is good value for money too.