PA Pool Members Carry The Olympic Torch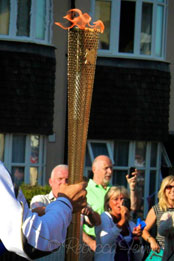 The Olympic Torch Relay is fast approaching its final journey but two of our PA Pool members were lucky enough to be given the opportunity, via nomination, to carry the flame through their communities. You can find out more via the London 2012 website here.
On Wednesday 18 July, Bazza West carried the Olympic flame through Rye in East Sussex and on Saturday 21 July, Sarah Howard carried the flame through the grounds of Greenwich Royal Naval College ending up on King William Walk by the Cutty Sark Gardens.
We hope to bring you more information on their experience and photographs in our next newsletter. If you were also involved in the Olympic Torch Relay and would like to tell your story, email us at admin@papool.co.uk.
Photograph courtesy of Rebecca Fennell Photography.