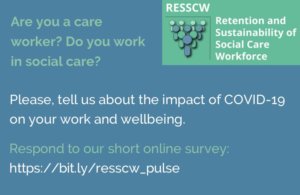 We have been contacted about a new online survey by the University of Kent about the impact of the COVID-19 pandemic on care workers' wellbeing and workload.
The questionnaire relates to everyone working in social care. It takes about 10 minutes to complete and can be done on your mobile. It's completely anonymous but you can enter a prize draw to win a £20 Amazon voucher.
More info and link here: https://bit.ly/resscw_pulse 
If you have questions, feel free to contact Agnes Turnpenny (a.v.turnpenny@kent.ac.uk).