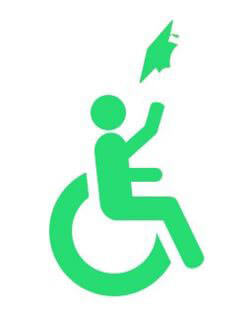 Earlier in the year we were approached by the Independent Living Fund with information about a charity one of their users had set up. We always like to help and inform where we can, so the details are as follows:
The purpose of F.R.I.E.N.D.S Charity (Financial Resource for Independence Educational Needs of Disabled Students) is to fund postgraduate course fees for disabled students who achieve a first class honours in their undergraduate studies.
This funding will enable disabled individuals to attain their full academic potential by empowering them with an education that will allow them to give back to the society which supports them in a positive and forward thinking way. Enabling them to either work from home or in a conventional workplace if their personal condition allows.  This, in turn, will reduce the burden on public finances in conjunction with utilising a valuable human resource.  By increasing the employability of intellectually capable individuals who are otherwise disadvantaged also allows disabled individuals to move towards a genuinely independent and purposeful life with genuine financial freedom and responsibility.  F.R.I.E.N.D.S Charity will also inspire disabled individuals of all ages to aspire to academic excellence.
There are intentions to create an alumnus of disabled individuals willing to support the F.R.I.E.N.D.S Charity in both financial and practical ways.  Over time the charity hope this will develop to become a self-sustaining fund for the benefit of both disabled individuals and society in general.
For further information contact Bob Green – Director – via email:friendscharity@yahoo.co.uk, Mobile:  07703770386 or find the group on Facebook under F.R.I.E.N.D.S Charity.
Postal Address:
FRIENDS Charity
Media Factory
Knowledge Transfer
University of Central Lancashire
Preston
PR1 2HE