Does the Care Minister not Care?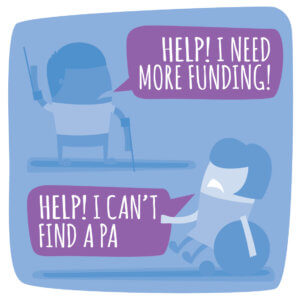 Before Brexit, a third of care workers came from Europe. As the UK split from Europe, carers were not included on the 'skilled workers' list, instantly vacating around 113,000 care posts. The vision was for these to be filled by training British nationals, but chronic staff shortages are impacting care provision. The Migration Advisory Committee's Annual Report on the impact of the loss of freedom movement is due in April – what will this recommend and will the Care Minister put these recommendations into action?
Shortage of Care Workers at Crisis Point
The shortage of care workers in the UK is no secret and the government have been taking actions to boost recruitment. The national Made with Care advertising and radio campaigns, additional funding to local authority care providers and fast-tracked DBS checks are in place. These have yet to generate the number of staff needed to fill posts.
The staff shortages are forcing care homes to opt for part occupancy. It means hospital beds are being taken up by people who cannot be discharged. It means that individuals' basic needs are not being met. Even the Government's Migration Advisory Committee (MAC) is recommending the introduction of a UK Health & Care Visa, with care workers added to the skill shortage list.
The Workforce Recruitment & Retention Fund invested £162.5m to promote adult social care through winter, on top of £300m to build care provision. Whilst this move is welcomed in the care industry, there is a clear gap in provision – individuals hiring personal care assistants.
What Prevents Individuals Recruiting Live-in Personal (Care) Assistants from Abroad?
There are several reasons why recruiting Personal Care Assistants remains an issue despite this significant injection of funding and the changing of visa rules.
Firstly, the Workforce Recruitment & Retention Fund did mention that it could be used for 'Day care, short stay care services and supporting the capacity of the personal assistant workforce' however, the focus was on support for:
care home and domiciliary care
care providers with which local authorities do not have contracts
organisations providing care and support who may not be registered with the Care Quality Commission (CQC)
Secondly, sponsoring a visa application is an option, but only for businesses and organisations. The Home Office has only opened the sponsored visa route to organisations because individuals "cannot demonstrate a verifiable track record of operating within the legal and regulatory framework".
Sponsoring a visa application is also for people taking up a post for between 1 and 5 years, (The Home Office states that short-term visas do not ensure the integrity of the immigration system). However, most personal care assistants come on a short-term placement. They want to work whilst learning English or travelling, with many commuting to work here and staying for weeks or months at a time, not years.
Many individuals have successfully employed live-in personal assistants from Europe and other parts of the globe for years. Visa restrictions mean they now have a reduced pool of workers to recruit from and consequentially are struggling to find the support they so desperately need. The measures the Government have put in place so far do not address this issue.
Thirdly, even if there was an influx of British Personal Care Assistants, social care funding is insufficient to pay the going rate, which can be as much as £300 per day for 24-hour care and £20 per hour for live-out care.
Aims to Improve Understanding of PA (Personal Care Assistant) Role
It seems that within Government, there is a lack of understanding about the unique role of a live-in Personal Care Assistant in particular. To address this, we attended a recent meeting to which Gillian Keegan, Care Minister, was invited. The meeting included a succinct presentation about the specific issues facing individuals who employ PAs directly. It aimed to educate those who may not understand the role of a PA and how vital they are to individuals with significant support needs.
Gillian Keegan did attend, however, it appeared like a tick box exercise. She was mostly looking away from the screen, distracted, asked no questions and gave her apologies and left after 15 minutes. Her comments were limited to "It's challenging" and "We'll wait for the MAC report". The message it gave was that the Care Minister simply doesn't care.
What is the Impact of Individuals not Being Able to Recruit PAs (Personal Care Assistants)?
It is estimated that there are around 100,000 private employers of Personal Care Assistants in the UK. With various physical or mental health needs, many are reliant on PAs for essential daily tasks, getting dressed, going to the loo, eating and drinking.
With the support of a PA, individuals can enjoy a quality of life; working, learning, socialising and contributing to society. Without them, the situation can escalate into extreme vulnerability in a matter of hours.
The Spinal Injuries Association Chair of Trustees, Dr Rupert Earl has stated:
"Our helpline has been flooded with members left desperate by the lack of care workers. Our members who employ health and social care workers directly are some of the most seriously disabled with the most complex needs. The absolute terror of being left without support is something which many of us feel – but we shouldn't have to."
Living in fear about how you can get through each day is a serious concern, with potentially life-threatening consequences. It impacts individuals' mental and physical health.
In some cases, partners or family members have given up work to become full-time carers. This is out of necessity, not choice and it is an economic drain. Not everyone has this option and in other cases, hospital admission is the only way to survive. This is a risk for people with reduced immunity, hospital staff do not have the time to provide 'non-urgent care' for someone who cannot physically do things for themselves, plus it's an unnecessary cost for the, already overstretched, NHS.
Hopes Pinned on the MAC Report
The MAC Annual Report mentioned by Gillian Keegan is to be published in April. It promises bespoke solutions to tackle care provision, including privately recruited personal care assistants.
PA Pool's founder Katy, who is a direct employer of PA's herself, was interviewed by MAC as part of their research for the report. Through PA Pool data, she was able to offer a valuable insight into the actual numbers of European and Rest of the World PAs who were working in the UK and the impact the loss of freedom of movement has had on recruitment.
We are hoping for a specific non-sponsored route to recruit foreign PAs on both a PAYE and Self-Employed basis. Self-Employment is important because without having to pay employer contributions such as tax, maternity and sick pay and pensions, budgets to go further. Self-employment also enables EU PAs the option of working for several people on an ad hoc or temporary basis where PAYE would be too complicated.
So, we are waiting with bated breath to read the MAC Report recommendations and see how (or even whether) they are actioned by the Government. We have to hope that the Care Minister, Gillian Keegan does take the MAC report more seriously than the recent meeting. Millions are relying on swift action to enable valued EU workers to return and provide those dependent on PAs with the life enabling support they need.
View the SMA UK podcast where Katy, Luis and Michaela explain the importance of PAs: https://lnkd.in/eJjg8sZG
If you would like to join the campaign, please write to your MP. Spinal Muscular Atrophy UK (SMAUK) have put together a draft template which you can download from the link on their #ITSNOTJUSTCARE campaign web page smauk.org.uk/blog/information/itsnotjustcare-campaign
#ItsNotJustCare