A Very Real Crisis in Care
Posted on December 14, 2021 in News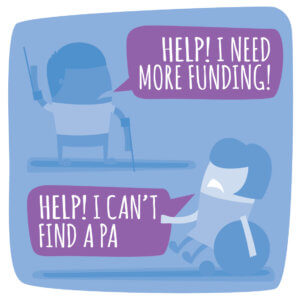 We appreciate the
efforts the Government are taking to increase recruitment of social care
and make it a more attractive career option but, by the same token, we don't think the Government fully understands the
situation of people like our founder Katy
and many other PA Users who employ 24-hour live-in Personal Assistants to support them in their own homes.We've written this blog to try and raise awareness of the issues that someone like Katy is facing today!
Since Brexit there has been a notable shortage of care workers.
Pre-Brexit a third of our personal assistants came from Europe.
Post Brexit they are not recognised as 'skilled workers' and are no longer eligible to work in the UK. So, in effect, we have lost a third of our workforce.
Katy has reviewed the newly
proposed social care plan
and is struggling to see how it will solve her issues of recruitment, retention and being able to afford the salary which now is increasingly (and quite rightly) being requested by British nationals.
Understanding the situation
As anyone in this situation is aware, the role of a Personal Assistant is very different from other jobs in social care. Being a 24-hour live-in Personal Assistant is a demanding role where in a nutshell, the PA lives the life of their client rather than their own. This is not a sustainable career long term for most people so the turnover of staff is much higher.Most people like Katy have a team of 2-3 PAs who work shifts, and often individuals may only remain in the position for 6-12 months before moving on, therefore the ability to recruit replacements is a constant necessity. They also need to have a contingency plan in place for back-up in an emergency should someone not be able to cover due to illness etc. This further widens the pool of people needed. Plus, quite often, experience and training is not enough. Due to the nature of the work, personality and compatibility are extremely important and without such the relationship will break down, so choice is paramount.You might have read recently that the
Migration Advisory Committee
(MAC) is recommending that care workers are added to the occupation shortage list. However, recognising PAs as skilled workers won't help individual PA employers, as individuals can't sponsor workers – only organisations can. So we still need a non- sponsored visa route for individual employers and PAs to use. Equally, having social care designated a shortage occupation would only help care agencies and not individuals.
Our questions for the Government
How and when do you think the actions you are taking will start to alleviate the care shortage?
This crisis is very real now. The Princes Trust plan to train 10,000 new care staff in the next 5 years when already the vacancy rate now is said to be 160,000!
Katy knows of several people who cannot find cover for the Christmas and New Year period. They are totally reliant on this support to get out of bed, to get dressed, to go to the loo, wash, eat and drink, travel and go to and from work – these are things they cannot do for themselves.
What happens if they are unable to find people to support them?
Many people don't have family that can help in an emergency and the local authorities can rarely assist in the short term. Even admittance to a Care Home, which is undesirable, but has always been a short-term possibility in an emergency, is also unlikely to be possible now as due to the staffing shortages in homes new admissions are being refused. The simple fact is, who can survive for more than a few hours without being able to go to the loo, drink and eat, never mind the other things essential for physical and mental wellbeing?
Will funding increase to employ the 'new workforce'?
The £162.5 million, workforce retention and recruitment fund (only available until next April)
,
makes little mention of additional funding for people who employ Personal Assistants directly. Currently the expected daily salary is approximately double the amount most Direct Payments and PHB users can afford to pay, so urgent action is needed now before disabled people die unnecessarily through lack of support and care.Even with our rudimentary calculations, doubling funding to meet these increased salary expectations for the estimated 100,000 people who employ Personal Assistants will cost far more than the £162.5 million the Government has allocated for the entire workforce and recruitment fund.
The Government says that it is investing a record £500 million in new measures over three years to support professional development and the long-term wellbeing of the workforce but do they really believe that there will be enough workforce from Britain to replace the people we have lost?
Until last year it was very popular for Europeans and Antipodeans to work here as PAs, which offered them an attractive short-term solution to earn a good wage which allowed them for example, to learn English, save to travel, buy a home, start a business, or pursue another career all while they were contributing to the economy here. Many even commuted from mainland Europe to work in a live-in position for a few weeks at a time. They were also particularly interested in working holiday times such as Christmas and Easter which was extremely valuable for PA Users as these times are notoriously difficult to cover. Brexit and an increase in the cost of working visas for those living outside of Europe (which has doubled) has completely cut off this valuable source of workers.
Why is the Government not considering the ability to reinstate foreign workers to work in the UK as personal assistants?
In our opinion, the simplest and quickest way to alleviate the shortage right now, to ensure the safety and wellbeing of disabled people with high support needs, would be to reinstate the ability for foreign workers to work in the UK as Personal Assistants, which, as PA Users are individual employers, would need a specific non-sponsored visa route. For those who employ live-in social care via an agency then social care should be declared a shortage occupation.
Why doesn't the Government officially recognise Social Care workers, including Personal Assistants as 'Skilled Workers'?
Apparently the Government is aiming to 'set out a workforce strategy to create a well-trained, developed, supported, sustainable and recognised workforce' and create 'a qualified and skilled workforce that is rewarded and feels valued which is essential for high quality care that is sensitive to individual needs'. Surely the Government should officially recognise Social Care workers, including Personal Assistants as 'Skilled Workers'!
It's a travesty
The Government has said it will be working closely with care leaders and staff to take forward the policies in the new strategy, yet there is no mention of working with the people who are directly on the receiving end of Social Care. They are after all, the people in the life-limiting situation because of the inadequacies in the current strategy and, like Katy, need answers to the above questions!It is vital that we raise awareness of these issues and gain action. This is how you can help:
Further reading:
The Health and Care Bill: six key questions