What do I do if my PA walks out on me, and I have no one to cover?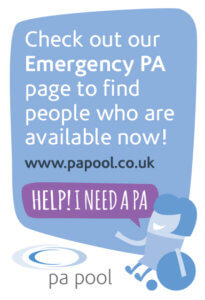 Prevention is obviously better than a cure, but however prepared we endeavour to be, it can still be a constant worry at the back of our minds.
PA Pool operates a report system where members can alert us if such a situation happens and based on this, I can thankfully say PA's 'walking out' on their clients is a rare occurrence. Our policy is to permanently ban PA members who leave their clients without notice and in a vulnerable position, so with the help of members reporting incidents we can act immediately and prevent it happening again, which is hopefully building a safe and trusted community of PAs and PA Users.
Unfortunately, although there is no complete fail-safe solution to problems such as this, there are steps you can take to minimise the possibility of it happening to you…
Members can use the star ratings feature to rate a list of qualities for PAs they've worked with. This can give a good indication of things such as reliability, especially if the PA has worked with a few people. You can view a PA's ratings by clicking on the stars located on their profile.
Always conduct face to face interviews in person or online via something like Zoom or FaceTime prior to employment as personality clashes are one of the biggest causes of conflict. If you have a trusted PA you've previously employed, it's worth asking them if they could have a chat with any prospective PA's. I've found that my PA can explain the role much better than I can and also prospective PA's often feel more relaxed and open up, which can be more revealing, and you can better establish if you are a suitable match.
Thoroughly check references and qualification certificates and ask for a copy of identity documentation such as a driving licence or passport, national insurance number and tax reference number (if self-employed).
I always insist on at least 2 paid training days before agreeing employment, where they shadow an existing PA and can try out the routine themselves. This gives a really good indication of whether you are a good match and also demonstrates whether they are able to undertake your daily routine and requirements.
Once employment commences, have an agreed trial period followed by a meeting to discuss openly how you are both getting along. Honesty and openness is vitally important and tackling issues before they become a problem will ensure things don't get bottled up and then blown out of proportion. The general rule is that if your PA is happy then you are too.
Repeat these feedback meetings every so often to check everything is still good for both of you and work together to try and resolve any issues raised.
There will be times unfortunately that for whatever reason things don't work out between you. It's important for both parties to remain professional and for your PA to understand that they have a duty of care and cannot leave without ensuring that you have adequate cover. It's worth making this clear upon employment, preferably in a signed contract where for example, you can state that wages will be deducted for not giving the agreed notice period. It's not fool-proof, but the prospect of losing wages might be an incentive to honour the agreement and ensure you are not left in the lurch.
I have a regular team of PAs who are sometimes able to cover for each other and also a list of back up PAs who are able to help out for short periods, which helps me to cover any emergency situations. It takes a while to build up such a team, but it's a god send for peace of mind.
If you do find yourself in a situation where you need to find a PA in an emergency, then PA Pool has an Emergency PA page where PAs can post their immediate availability. It won't provide a long-term solution but hopefully will give you enough time to find a new PA.
The above information has been provided by Katy Etherington, founder of PA Pool. Read about her big idea here.
If you want to find work as a PA/Personal Care Assistant, click here.
If you want to employ a PA/Personal Care Assistant, click here.
PA Pool is a dedicated interactive website for disabled people looking to employ a personal care assistant (carer) and PA's (carers) looking for work. PA Pool is an award-winning market leader in its field, offering members the facility to actively manage their own recruitment or employment. Find out more at www.papool.co.uk.