RADAR recognises PA Pool for "Doing Care & Support Differently"!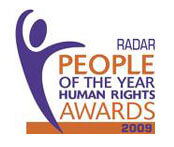 PA Pool has been named as one of six finalists in the Doing Care and Support Differently category in RADAR's People of the Year Awards 2009.
RADAR's People of the Year Awards, celebrates excellence and achievement by both disabled people and those organisations with a commitment to furthering the equality agenda for disabled people.rector/founder Katy Etherington is a PA user and has employed PAs for 12 years;
"Currently there is a massive push towards giving disabled people more control, especially over their care and support, but most methods of recruitment donít actually facilitate that. I developed PA Pool to make the recruitment process more accessible, interactive and more empowering not only for the thousands of people who need support to live independently or are looking for work in the care field, but also the increasing number of families who need help to care for elderly relatives."
Since PA Pool's launch in June 2007 the member base has grown to over 4500 PAs and PA users, and each month these figures are growing. People all over the UK are benefiting from the service, the reduced effort of finding a PA, or PA employment, and the peace of mind having a dedicated resource brings. Becoming a PA does not always require qualifications or experience, so PA Pool provides opportunities to many job seekers who might otherwise find it difficult to find employment, as well as encouraging students studying medical or care related courses to gain valuable work experience by undertaking temporary PA jobs during their holidays. PA Pool provides the resource to enable independence or gain experience, ultimately helping people to make a greater contribution to society.
The finalists will attend a black tie dinner to be held at held at Battersea Evolution on the 28th November. "It's great when you find an idea that enables you to personally overcome a particular problem. When that idea solves the same problem for others too – its even better! If you get recognition and someone actually tells you that your idea is good – it's fantastic! This is the 4th award nomination PA Pool has received since its launch, I feel very proud."