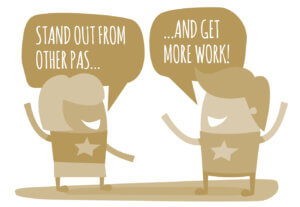 So it's been a few months since we added some new functions to our website, and we would be really interested to hear your opinions!
Are you finding the Shift Calendar useful? Did you know that you can now also Search for someone's availability for work by date? You can find this in the Search Form. We've also added an improved Star Ratings feature so you can now rate people you've worked with in more detail. So don't forget to let people know and let's all strive for those 5 stars! These new functions are available to PA Users and Premium PAs. If you're not a Premium PA you can still give an overall rating of someone you've worked with.
To refresh your memory, the new functions include the following:
Premium PA – offers a highlighted profile for PA's/Carers to make themselves stand out from the crowd. Being a Premium PA also gives access the following functions:
Star Ratings – evaluate people you've worked with using the Rate feature located on individuals profiles. You can manage an edit people you've rated and also see who's rated you by selecting 'My Ratings' located under the 'My Settings' menu tab
Shift Calendar – let people know exactly when you need cover or when you are looking for work by selecting the specific days on your PA Pool Shift Calendar. Select 'My Shift Calendar' from either the 'My Profile' or 'My Settings' menu tab
To learn more about the new features and functionality, including screen shots, visit our previous blog at: https://news.papool.co.uk/new-features-and-opportunities-from-pa-pool/.
If you're looking for private care work you can register on our website for free: https://papool.co.uk/auth/register/assistant.
If you're a PA User you can register here: https://papool.co.uk/auth/register/user.
To send us your feedback, please email: admin@papool.co.uk.