PA Pool makes Eastern Region Finals at the Barclays Trading Places Awards!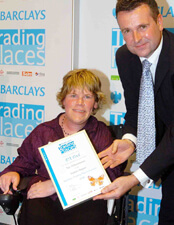 PA Pool has been selected as one of the top ten businesses in the Eastern Region.
Barclays Trading Places is a uniquely focused set of Awards for anyone who has taken the challenge to change their life – by setting up a business. The government backed Awards, presented in association with The Prince's Trust, National Federation of Enterprise Agencies, The Sun, JobCentrePlus, Department for Business, Enterprise and Regulatory Reform (BERR) and Microsoft, feature practical examples of people who have taken control of their lives by deciding to go it alone.
PA Pool founder Katy Etherington who has muscle weakening condition Spinal Muscular Atrophy told the judges; "I have never been one to accept things as they are if I have the ability to change them. I am a full time wheelchair user who requires 24 hour personal assistance and the problems I had recruiting the right Personal Assistants (carers, or PAs) often prevented me from living my life on the most basic of levels, let alone allowing me to do the things I wanted to do. From the simple desire to make the process of recruitment easier and more effective for both myself and other people like me, the idea of PA Pool was born."
At a special award luncheon at the Hilton hotel in Cambridge on the 27th June, John Davis the Marketing Director of Local Business from Barclays Plc presented Katy with her certificate. "I'm so proud to have been selected and so happy that people are really finding PA Pool a useful tool. It has certainly changed my life for the better!"
Since PA Pool's launch in June 2007 it has accrued a member base of almost 2000 personal assistants and disabled people and each month these figures are growing. "The response and feedback has been better than I ever dreamed of! People really seem to be benefiting from the service, the reduced hassle of finding a good PA and the peace of mind that having a dedicated resource brings."