PA Pool celebrates another award success!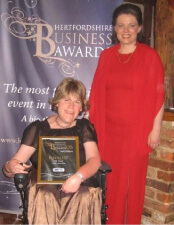 PA Pool was named as one of four finalists in the Creative Innovation category at the Hertfordshire Business Awards 2008.
The Hertfordshire Business Awards celebrate the achievements of businesses throughout the county and the Creative Innovation Award award recognises businesses who are prepared to conceive, test and practice new ideas.
PA Pool founder Katy Etherington who has muscle weakening condition Spinal Muscular Atrophy told the judges; "Historically, the only way of recruiting was advertising in local newspapers and magazines which was expensive and job information restricted to a limited number of words. The introduction of the internet opened up new places to advertise, but still using the conventional advert format. It was a one way process with no way of predicting what response you might receive, or the overall suitability of candidates. I was frustrated not being able to actively look for people who fulfilled my requirements and by time wasters not reading my advert properly!"
The lack of a dedicated resource for PA recruitment was a distinct gap in a growing market, and from that the concept of PA Pool was born. A completely new idea – its aim, to make the recruitment process easier, more cost effective and offer employers and jobseekers the facility to interact with each other. PA Pool holds a growing, UK wide database of PAs and PA users, which each member can browse or search using specific criteria. Members complete a profile about themselves and the person/job they're looking for, along with any specific needs/relevant experiences. There is also the option to search for emergency cover allowing PA users to source available PAs immediately, giving greater peace of mind.
The finalists attended a black tie dinner held at Knebworth Barns on the 28th November. "It's great when you find an idea that enables you personally to overcome a particular problem. When that idea solves the same problem for others too – its even better! If you get recognition and someone actually tells you that your idea is good – it's fantastic!"