Money for training – Skills for Care
Did you know that if you employ a PA (Personal Care Assistant), you can ask for a grant to pay for training and qualifications for both you and/or your PA(s)?
This funding comes from Skills for Care's individual employer fund and easy read guides, full details and application forms can be found on their website here:  www.skillsforcare.org.uk/individualemployerfunding.  The funding is open to all Personal Health Budget (PHB) holders with a PA, regardless of their age.
There are lots of courses covered by the funding.  PHB holders have recently applied for the following:
Asperger's awareness
Awareness regarding working with someone with an acquired brain injury
Being a good employer
First Aid
Food Safety
Diplomas in Health & Social Care
Leadership and Team Skills
Mental Health Awareness
Problem solving in the work place
Understanding End of Life Care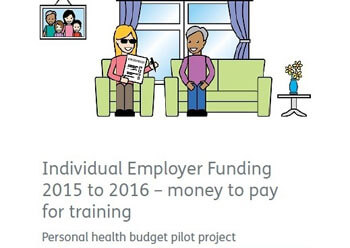 More examples are available to download here, but you should remember this isn't everything and that all applications are considered on a case-by-case basis. For full details visit the website.  Please note the training must be started by 31 March 2016.
If you have any questions please call 0113 241 1275 or email funding@skillsforcare.org.uk.