How it took a Pandemic to make the World Inclusive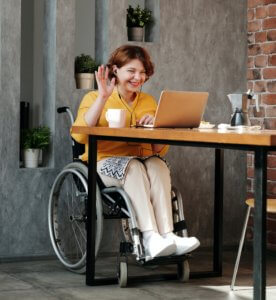 The world has become more accessible for disabled people since work, leisure and socialising got taken online as a result of Coronavirus…
It's ironic that while the world has discovered what it is like to be unable to go to the pub, go to gigs, travel or visit museums, COVID-19 has opened up a whole world of possibilities for disabled people.
As businesses have raced to get their services online, it has meant that many disabled people, who have been unable to access the world 'out there', have seen the world brought to them.
Now, museums around the world can be visited at the move of a mouse, so that people who are housebound or find it hard to travel can discover art and history that was previously unavailable to them.
Theatre is being streamed online – one could choose from Andrew Lloyd Webber's stage musical Cats or Macbeth, for instance, starring former Dr Who Christopher Eccleston – shows that might have been out of reach due to cost or practicalities.
Groups of friends are meeting up online, opening up a social life for people who struggled to get out to pubs, clubs and restaurants. And seeing your favourite band or singer is as easy as switching on your phone or laptop, as bands including Metallica and Neil Young stream concert performances online. You can even attend Glastonbury from your own front room!
Disabled people can feel part of their community as they worship from home, with church services streamed live, and studying is now done virtually, using video calling for tutorials, meaning that more and more courses are open to those who are unable to leave their home or travel.
Probably the biggest possible change for disabled people is that businesses are realising that many jobs can be done from home – plenty of vacancies are advertised as remote jobs, and not just until the Coronavirus crisis is over.
This expansion of the accessible world for disabled people during the COVID-19 pandemic has been welcomed by PA Pool, a website that aims to help disabled people take more control of their lives, by managing their own private care recruitment or employment. Founder Katy Etherington said: "Bringing work, leisure and socialising online is making a world of difference to disabled people. I hope it continues once the crisis is over.''