Founder of PA Pool Katy Etherington wins Gold!
Katy Etherington, Freelance Graphic Designer and founder of PA Pool was celebrating today after being awarded a prestigious Association of Colleges (AoC) Gold Award by Lord Willis of Knaresborough at the House of Commons.
The awards ceremony is held each year to recognise further education alumni as well as acknowledge the vital role that colleges play in the careers of the winners and of their continuing achievements.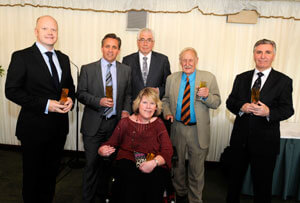 Katy Etherington was nominated by the National Star College where she studied a BTEC Level 2 Diploma in Design in 1991. The College is a specialist residential college for students with physical disabilities. Katy, who has spinal muscular atrophy, joined the college from school as a residential student in 1998 where, as well as studying her course, she also undertook a programme of life skills, personal development and work experience. Living away from home gave Katy her first taste of independence and the opportunity to try things that she had never previously dreamed possible.
After successfully gaining her qualifications, Katy began to search for work and eventually secured the post of Junior Designer at design and marketing agency Frasers. She worked at Frasers for 12 years, being promoted to Senior Designer along the way. In 2009 she left to start working for herself as a Freelance Graphic Designer and since then business has gone from strength to strength.
Whilst she was working at Frasers, Katy, needing 24 hour live-in personal assistants, knew how challenging recruiting can be, so to try and solve the problem, she set up her own company – PA Pool Ltd which is a website introduction service for disabled people and personal assistants. Katy launched PA Pool in 2006 and it now has over 12,000 members all over the UK. The business was shortlisted in the Hertfordshire Business Awards 2008, the Barclays Trading Places Awards in 2008 and 2009. It was also shortlisted for the RADAR People of the Year Human Rights award in the same year.
On winning her award, Katy said,
"I am delighted and honoured to receive this award, (if not a little bit awestruck to be amongst such a prestigious line up!), it has made me realise how much I have achieved since leaving college. Thank you to everyone at National Star College, keep up the fantastic work!"
Katy Etherington was among eight former students whose careers have been positively influenced by their former Colleges.  The other winners are Trevor Baylis – Inventor and Entrepreneur, Idris Elba – Actor,  Peter France – Chief Executive of Rotork plc, Justine Greening MP – Secretary of State for Transport, Amir Khan – Professional Boxer, Justin King – Chief Executive of Sainsbury's and Sir Kevin Smith – Chief Executive of GKN plc.
To highlight the important role further education continues to play for today's students the AoC Charitable Trust runs a 'mini me' campaign alongside the Gold Awards. The nominating colleges each select a current student who shows promise in a similar field to their Gold Award winner.
Craig Morris, from Gloucester, is currently studying an extended Diploma in Art and Design at Level 3 at Gloucestershire College where he enrolled after completing a GCSE double award and a BTEC National Award at the National Star College. Once he leaves Gloucestershire College he hopes to set up his own web company to sell his work which includes abstract landscape drawings and printing creating digital printing to ceramics.
Craig, 21, who has muscular dystrophy and uses a powered wheelchair, had the opportunity to meet his muse at the award ceremony at the House of Commons on 13 June and find out what it takes to carve out a successful career and about the role that their college played in their success.
Craig said he was really pleased "to meet Katy to find out how she overcame the many barriers she faced in order to create a successful business. I wanted to ask what advice she could give me as I start to face these barriers in creating my own business. Katy has proved that having a disability need not be a barrier to having a successful career. I am also looking at starting to employ my own personal assistants so I'm sure PA Pool will be a great help with that too!"
Katy finished by saying: "The support and facilities the National Star College provide are outstanding and I'm sure there will be many more young disabled people like Craig, who will not just follow in my footsteps, but go on to push the boundaries of success to its furthest reaches."