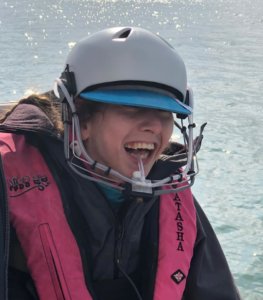 Here at PA Pool we love inspirational stories and this one on the Metro website caught our eye! A young woman – Natasha Lambert – with cerebral palsy is set to sail 3,000 miles across the Atlantic Ocean by using only her mouth to control a specially adapted 46ft catamaran.
How on earth can she do that, we hear you ask? Well, apparently, Natasha's Dad invented a unique 'sip and puff' system that mean she'll be able to control the boat using a single straw. Natasha, who started sailing age 9, was disappointed when she couldn't pilot a boat herself. So Dad, Gary, who is an electrician by trade, invented the tube system that would allow her to operate the steering and sails and to check the navigation.
Natasha, who is just 23, will be sailing from Gran Canaria to St Lucia next month and hopes to raise a magnificent £30,000 for the Royal National Lifeboat Institution (RNLI) and the Ellen MacArthur Cancer Trust.
Read the full article here: https://metro.co.uk/2020/10/07/disabled-woman-to-sail-3000-miles-across-atlantic-using-mouth-to-control-boat-13383473/?ito=cbshare which also includes a link to Natasha's Virgin Money fundraising campaign.
If you have an inspiring story to tell – and it doesn't need to be anything of this nature – then please get in touch. We'd love to hear from you at hello@papool.co.uk.