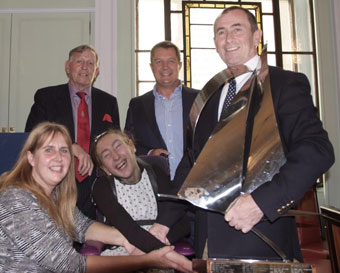 Did any of you catch the TV news last night? We were delighted to see young Natasha Lambert being awarded for her outstanding solo sailing accomplishments.
Despite being labelled 'disabled' and born with athertoid cerebral palsy, Natasha was just 16 when she completed her solo journey across the English Channel in a 21ft-long (6.4m) boat. This wasn't the first of her solo sailing experiences though, as Natasha sailed around the Isle of Wight in 2012 raising more than £17,000 for charity!
Yesterday, Thursday 9 January 214, Natasha was awarded Young Sailor Of The Year by the YJA (Yachting Journalists Association) Apollo Yachtsman of the Year Awards. Both Natasha and 79 year-old Arctic Explorer, Reverend Bob Shepton – winner of British Yachtsman of the Year – received their awards at a lunch held at Trinity House, London, presented by Bob Fisher, Chairman of the YJA.
You can read more and connect with Natasha via her website www.missisle.com.
Caption for picture: Natasha Lambert, the 16-year old cerebral palsy suffer and cross-Channel sailor, winner of the YJA Apollo Young Sailor of the Year Award with her parents and Bob Fisher, Chairman of the YJA and Nick Davis, Chief Executive of Apollo Boats. Photo courtesy of Barry Pickthall/PPL.